11 signs your senior needs home health care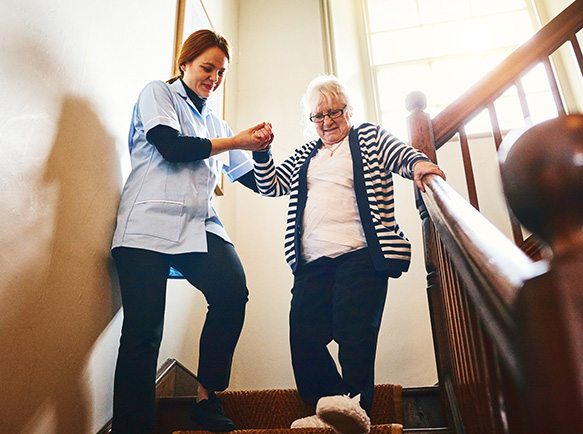 A need for home health care doesn't have to be triggered by a major health crisis or hospitalization. Many seniors can benefit from regularly scheduled visits from a home health caregiver to monitor their health, assess their conditions and help out with household tasks and transportation.
Family caregivers can't always be available every day or on call 24/7. Having professional home health care can supplement the care that families are already providing to senior loved ones and add an extra dimension of expertise to keep seniors healthier even if they have acute or chronic conditions.
Here are a few signs that your senior may benefit from home health care.
Difficulty with mobility and standing for long periods – Limited mobility affects every aspect of a person's life, from socializing to maintaining a household to toileting.
Increasing forgetfulness – Seniors often become more forgetful when it comes to names, dates or everyday foibles such as misplacing keys or glasses, but a sudden increase in forgetfulness can be an early warning sign of Alzheimer's disease or dementia.
Difficulty managing medications – Seniors often have many prescriptions and over-the-counter medications to manage on different schedules throughout the day. It can be challenging to keep track of what to take when and what might interact. Medication interaction is one of the leading causes of ER visits in elderly patients.
Unkempt home – Clutter, overflowing trash receptacles, excessive dust or undone dishes can indicate cognitive issues or difficulties with mobility and motor skills needed for household tasks.
Poor eating habits – Seniors can face difficulties both shopping for and preparing healthy foods, which may leave them with a diet of processed, high-sodium and high-sugar choices.
Poor personal hygiene – If your senior loved one is neglecting self-care, it may be caused by a number of conditions, including mild cognitive impairment, depression or motor skills issues.
Repeated falls or injuries – Declining motor skills, vision issues, vertigo and chronic pain can all contribute to an increased frequency of falls and potentially serious injury.
Changes in personality – Changes in personality, especially moodiness or aggression, can be indicative of Alzheimer's or depression brought on by aging and loss of independence.
Social isolation – If your senior loved one no longer leaves the house and has let friendships lapse, they can easily become socially isolated. They may need help with mobility or transportation issues that would facilitate more activities, or they may need help around the house, so they feel comfortable inviting friends and family into their home.
Dangerous driving – Impaired vision or hearing, motor skills and attention span can all contribute to unsafe driving. A senior who has lost the capability to drive safely is a hazard to themselves and others on the road.
Trouble managing finances – Unopened financial statements, unpaid bills, new credit cards or expensive subscriptions can all be warnings signs that your senior loved one needs guidance in their finances. While home health caregivers should not be given access to financial information, they can help remind seniors to stay organized and pay bills.
Home health care workers provide the medical support, social interactions, personal care, dietary and other assistance seniors need to be healthier and happier in their own homes.
If your senior loved one is having difficulties with the activities of daily living, transportation or monitoring and maintaining their health at home, it is time for a home health care assessment.
Contact us today to set up your home health care consultation: (518) 694-9400 Option 4 or info@belvedereservices.com.