Caring for dementia patients at home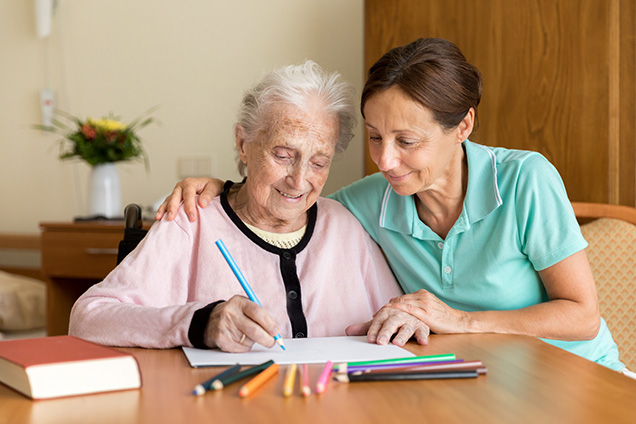 Seniors with cognitive impairments, whether the result of dementia, stroke or brain injury, not only require specialized care, each case is supremely unique.
Caregiving challenges can include wandering, mood swings, sleeplessness, confusion and the risk of the patient causing themselves harm through household accidents.
The need for 24-hour care can be taxing on family caregivers, while confusion and memory lapses can be emotionally difficult for children and grandchildren.
Home care can help ease the stress and give families of opportunity for respite knowing that their loved one is in the care of a trained healthcare professional. Plus, patients who are confused as a result of Alzheimer's disease or other conditions can stay in a comfortable, familiar environment and keep their own habits and schedule.
Our caregivers can provide round-the-clock supervision and care to prevent vulnerable seniors from wandering or getting injured in the home.
We're also able to attend to any other physical issues that are common with elderly stroke and dementia patients.
We also provide our Alzheimer's, dementia, stroke and brain injury clients a full range of assistance and services including:
Help with everyday activities
Monitoring health
Medication administration
Personal care - Bathing, dressing, grooming, etc.
Meal preparation
Transportation to appointments
Social interaction
Light housekeeping and laundry
Companionship
Incontinence care
Mobility and transfer assistance
Pet care
For more information about our flexible, 24-hour scheduling and vetted caregivers, contact us at (518) 694-9400 Option 4 or info@belvedereservices.com.