Caring for someone with diabetes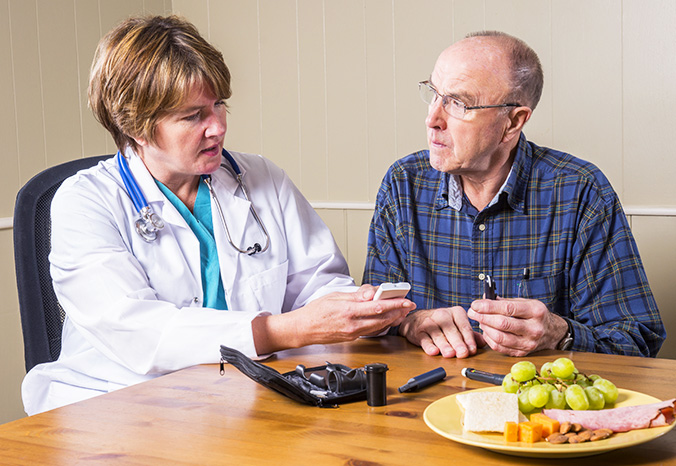 Controlling diabetes may seem simple on paper: Stick to your prescribed diet, take your medication, test as needed, follow the doctor's orders.
However, the day-to-day management that is required can be challenging; the cooking of healthy meals and the following of testing and medication schedules, can prove difficult for seniors who may also be coping with other health conditions and mobility issues.
Seniors with diabetes are also more vulnerable to:
Infections
Retinopathy (eye damage)
Cardiovascular disease
Nephropathy (kidney disease)
Neuropathy (nerve damage)
It's important that these conditions are caught early.
Belvedere Home Care has staff specially trained in caring for clients with diabetes and related disorders, which can affect metabolism and mood, cause discomfort and impact systems throughout the body.
Losing weight and reducing stress are important ways to help control diabetes, but are especially challenging with seniors who have mobility issues and other health concerns.
Our trained staff can help maintain daily health for people who are having complications related to diabetes. We can track symptoms and indicators for other health care providers, like primary care doctors and specialists. We can also educate families about special dietary needs and help prepare meals that are appropriate for a client's nutritional needs and specific health needs.
Other Belvedere Home Care services include:
Monitoring of blood pressure and other vital signs
Supporting with glucose testing
Changing dressings
Managing urinary catheters
Managing medication and talk to doctors or pharmacists
Helping with light housekeeping and laundry
Assisting with toileting
Offering mobility and transfer assistance
Providing transportation support to appointments and for errands
Offering 24-hour care and overnight care
If you would like more information about the care Belvedere can offer your loved one with diabetes, contact us ((https://belvederehealthservices.com/belvedere-home-care/contact-us)) at info@belvedereservices.com or call us at (518) 694-9400 Option 4.