Flu vaccinations: Make them a fall tradition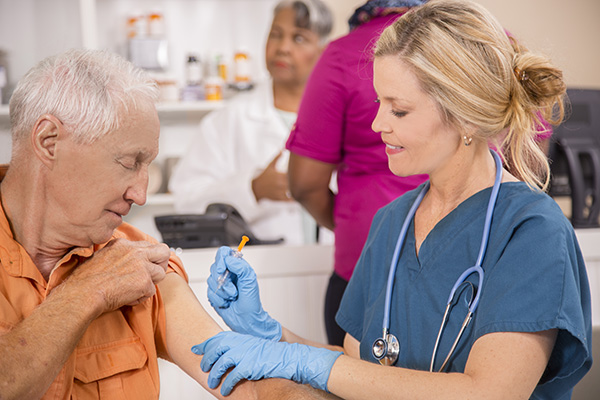 Fall means flu season, and it's time to get immunized.
The best way to prevent the flu is with a flu shot. The Centers for Disease Control and Prevention (CDC) recommends that everyone over 6 months of age get a seasonal flu vaccination each year by the end of October. Immunity to the viruses included in the vaccine will take effect after about two weeks.
Flu vaccination is especially important for people 65 years and older because they are at high risk for complications from flu. Seniors are more vulnerable to secondary illnesses such as pneumonia, respiratory infections, dehydration and exacerbation of chronic health conditions such as emphysema and heart disease.
People 65 years and older can get any injectable flu vaccine that is approved for use in that age group and can ask their provider about vaccines specifically designed for people ages 65 and older.
Flu vaccines have a limited lifespan in the body and often lose effectiveness by the time the next flu season rolls around. Vaccines are updated each season to prevent the viruses predicted to be the most prevalent during flu season. However, they cannot protect against all flu viruses, so it is possible to get an uncovered strain of flu even after immunization.
Seniors should also be up to date with other vaccinations, such as pneumonia and shingles, which their provider can recommend to keep them healthier through the winter months.
Caregivers should also receive flu and other vaccinations, not only so they don't spread the illness to their senior loved ones, but also so they will be healthy enough to stay active caregivers.
Seniors with chronic health conditions such as diabetes, asthma, liver disease, or heart problems are more vulnerable to the flu. In seniors with chronic conditions, influenza can lead to a long course of illness, hospitalization and even death.
To further protect yourself and those you love from potentially dangerous illness, try to stay out of crowded areas where germs can spread quickly, avoid touching your face, eat well, get enough sleep and wash your hands thoroughly several times a day – especially after touching surfaces in public areas.
It is much easier to prevent the flu than to recover, so take all the steps necessary for safe and healthy flu season.