Home Care and Heart Health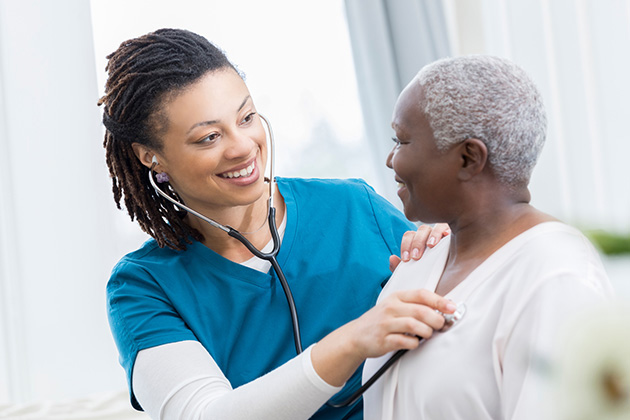 February is American Heart Month, dedicated to awareness, prevention and treatment of heart disease.
"Heart disease" is a catchall phrase for a variety of conditions that affect the heart's structure and function. The most common type of heart disease is coronary heart disease, a build-up of waxy plaque in the coronary arteries, putting people at high risk for heart attacks.
About 610,000 people die of heart disease in the United States every year – about 1 in every 4 deaths – making it the leading cause of death for both men and women. And every year about 735,000 Americans have a heart attack.
Today many people who have had a diagnosis of heart disease live long, fulfilling lives by taking better care of themselves and their heart health. Lifestyle changes and keeping tabs on your health can help slow the progress of heart disease and make a difference in how you feel every day. Treatment and monitoring may also help reduce the risk of related health problems.
People with heart disease and congestive heart failure and coronary disease can benefit from home health care, which can help assist with everything from dietary requirements and staying on schedule for medications to ongoing monitoring of their heart and overall health.
The Belvedere Home Care staff has specialized training and the experience to care for clients living with cardiovascular conditions including:
Congestive heart failure
Coronary artery disease (atherosclerosis)
Heart attack
Heart failure
Heart valve disease
Congenital heart disease
Heart muscle disease (cardiomyopathy)
Pericardial disease
Vascular disease
Hypertensive heart disease
High blood pressure (hypertension)
Belvedere Home Care services can help keep heart disease patients comfortable at home. We monitor vital signs, prepare healthy meals, administer medication and prevent clients from becoming overexerted. We work with the client's medical team to create a care plan that will make the person healthier and happier.
Other home care services can include:
Help with everyday activities
Personal care - Bathing, dressing, grooming, etc.
Laundry and light housekeeping
Companionship
Mobility and transfer assistance
Pet care
Transportation to appointments
Positive social interaction
If you or a loved one could benefit from home care to help you cope with heart disease, contact Belvedere Home Care for more information. We offer 24-hour care, daily visits, temporary assistance and many other flexible options that work for your needs and schedule.
Call us today at 518-694-9400 or email info@belvedereservices.com.