Home health care: Preventing strokes and improving stroke recovery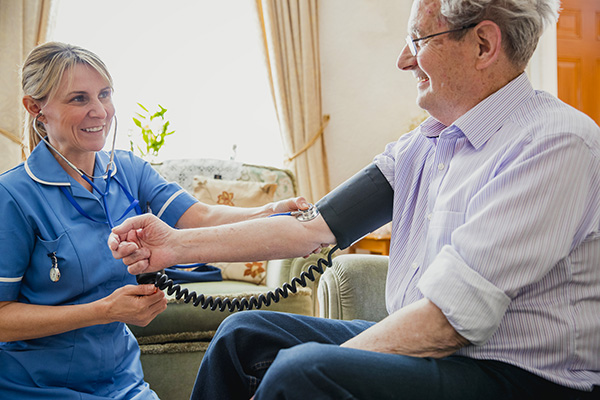 Every 40 seconds someone in the U.S. has a stroke, and around 800,000 people will have a stroke in the United States this year alone.
Many stroke victims are unaware that they were even at risk. Less than a third of people experiencing a stroke will arrive in the emergency room within three hours, the optimal time period for better outcomes.
May marks National Stroke Awareness Month, and this year the National Stroke Association is turning the spotlight on the 10 modifiable risk factors that account for 90% of strokes globally. Hypertension or high blood pressure is single most important modifiable risk factor, accounting for nearly 48% of strokes.
Monitoring blood pressure is an important first step in controlling stroke risk. Unhealthy behaviors such as physical inactivity, poor diet, and smoking contribute to hypertension and increase stroke risk. Smokers two to four times the risk of stroke compared to a nonsmoker or those that quit smoking 10 or more years ago. Preventative measures could lower the number of strokes by 80 percent.
Know the signs of a stroke
Knowing the signs and symptoms of a stroke are critical to getting medical attention as quickly as possible and can even save a life.
The acronym FAST is an easy way to identify the most common symptoms of a stroke:
F – Face: Ask the person to smile. Does one side of the face droop?
A – Arms: Ask the person to raise both arms. Does one arm drift downward?
S – Speech: Ask the person to repeat a simple sentence. Is their speech slurred?
T – Time: If you observe any of these signs, call 9-1-1 immediately.
Home health care can help seniors lower their stroke risk by monitoring their blood pressure and overall health, helping them stick to prescribed diets, helping them remain more active in the communities and making sure they are getting to all of their medical appointments.
After a stroke
After a stroke, patients often leave the hospital and go through rehabilitation before returning home. It can be a long road to recovery and families are often faced with making unexpected long-term care decisions in a very short time.
Belvedere Home Care helps stroke and brain injury clients settle back into their homes and recover at their own pace, working toward greater independence. Our specially trained staff has the knowledge and experience to help clients and families with everyday care and long-range goals. We work with doctors to develop a care plan, and we can adjust our services to a level and frequency appropriate for the client's level of recovery.
For more information about Belvedere Home Care, keeping seniors healthier at home or care during stroke recovery, contact Belvedere at (518) 694-9400 Option 4 or info@belvedereservices.com.