Preventing falls in the home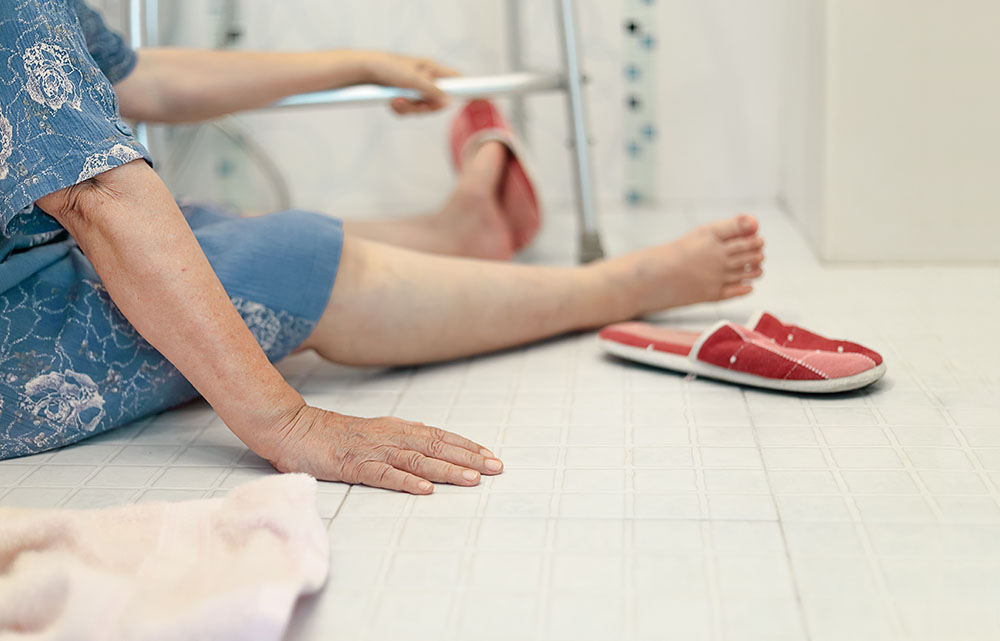 For seniors, a fall can be a significant health event. Falls are the leading cause of both fatal and nonfatal injuries for people aged 65 and up. That's why it's essential to create an environment that prevents falls and addresses the health issues that put seniors at risk for falling.
According to the Centers for Disease Control, falls by people aged 65 and older account for 2.8 million emergency room visits every year and 800,000 hospitalizations. One in five falls causes a serious injury, and more than 95% of hip fractures are caused by falling. Falls are also the most common cause of traumatic brain injury.
Even falls without a major injury can cause an elderly loved one to become fearful or even depressed as they are forced to face another limitation of aging. This can start a cycle of inactivity that can lead to lost skills and increased fall risk.
What causes seniors to fall?
Seniors can become more susceptible to falling due to a wide range of common physical issues.
Poor vision
Loss of balance and coordination
Prescription medications that can cause dizziness or lightheadedness
Chronic conditions such as diabetes, stroke, or arthritis
Slower reflexes
Reduced muscle strength
How can you prevent falls?
Your loved one's healthcare provider can suggest some activities and therapies that are specifically aimed at reducing the risk of falls.
But making simple, inexpensive changes to the home environment can also substantially lower the risk of a senior falling while alone in the home.
Clean up clutter - Clear pathways of boxes, furniture and electrical cords.
Secure rugs – Rugs can offer some traction on slippery surfaces, but only if they are secured, adhered or fastened to the floor. The sliding of a bathroom rug or a flipped-up rug edge in a hallway can be all it takes to trigger a fall.
Add somewhere to grab – Add rails in the bathroom near the toilet and the shower. Make sure there are secure handrails in hallways and on interior and exterior stairs.
Store things within easy reach – Standing on a stool – or even on tiptoe – is inviting a loss of balance and a fall. Store items used every day at eye level or lower.
Improve lighting – If your loved one can't see, they will have a harder time navigating their home safely. Make sure every room is brightly lit. Add motion detectors to high-traffic areas and install nightlights where needed.
Mark hazards – If uneven door thresholds or other features cannot be renovated or repaired, use a high contrast or brightly colored tape to mark spots where your loved one should take extra care.
Wear shoes – They may not always be the most comfortable, but they are safer. Slick socks and slippers multiply risks on smooth or uneven surfaces.
Live on one level – If your loved one lives in a two-story or three-story home, chances are they have necessities and everyday items on all of the floors. Even with handrails, stairs are a major cause of senior falls. If possible, rearrange the layout so that daily living (including sleeping) happens on one floor.
Belvedere Home Care can offer you fall prevention tips and other safety information to help keep your loved one in their own home longer. Regular visits from a Belvedere caregiver can help maintain a more clutter-free and safer home for seniors who are at risk for falls and fall injuries.
Contact us today for more information about our flexible, customized care programs. Call (518) 694-9400 Option 4 or email info@belvedereservices.com or contact us through our website.