Safe senior transfers at home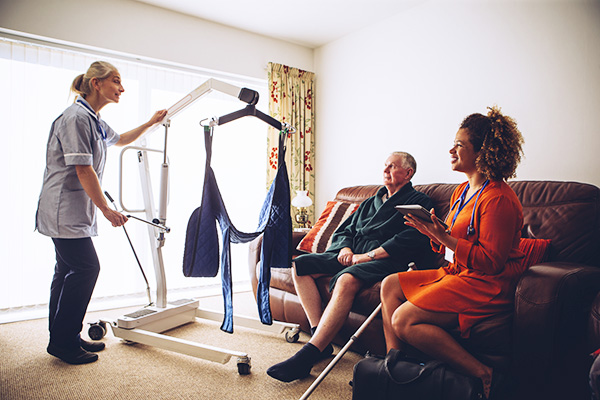 Caregiving can be a physically demanding job. One of the biggest physical challenges is transferring a patient.
A transfer is safely moving a patient from one place to another, such as from a bed to a wheelchair, from a wheelchair to a couch, from a chair to a wheelchair, etc.
Transferring patients from a bed to a chair may not seem like it is essential to their health, but the ability to move in the environment helps the senior stay more independent. Alternating sitting and reclining helps keep muscle tone, aids in digestion and prevents bed sores.
Often the caregivers themselves are in their 50s and 60s and may have back problems or other physical issues that make it difficult for them to move an elderly loved one from one place to another. Safety of both the caregiver and the patient must be considered when making decisions about a transfer routine.
There is a wide variety of moving and lifting devices available for home use, but they can be expensive and, in some cases, bulky for small bedrooms in a home. Manual transfers continue to be the most commonly used method.
When transferring a patient, it's important to pay attention to form to prevent caregiver injury and possible injury to the patient if they were to fall.
While performing a transfer:
Make sure both caregiver and patient are wearing slip-proof shoes or slippers.
Place transfer surfaces close together.
Position yourself close to the patient's center of motion, typically between the shoulders and the pelvis.
Check the surfaces for stability and slip risks. Are wheelchair brakes locked? Are blankets pushed away from the edge of the bed?
Tell the patient what you are going to do and let them look at the place they will be transferred to.
Help the patient position themselves so they can assist with the transfer if they have the strength and ability to do so.
Give notice of your intention to move with a "1-2-3" count.
Let your legs do the lifting while your arms support the patient.
Twisting the torso is a common cause of injury. Pivot on one foot or take a step to turn rather than planting your feet and twisting your back.
Once the patient is placed in the new position, check for safety issues and comfort.
Belvedere caregivers are trained in assisting clients' movement from one station to another and helping them remain as mobile as possible, as long as is safely possible. Our caregivers can assist people in the correct use of canes, walkers and other assistive devices to help prevent falls.
We can also educate families about safe transfer practices, so they can feel more confident when caring for their loved one, whether moving them to or from bed, to a wheelchair or to a vehicle. Our caregivers are also trained in using a mechanical lift.
Contact us today for more information about keeping seniors safe, happy and at home longer: (518) 694-9400 Option 4 or info@belvedereservices.com.