Senior kidney health and risks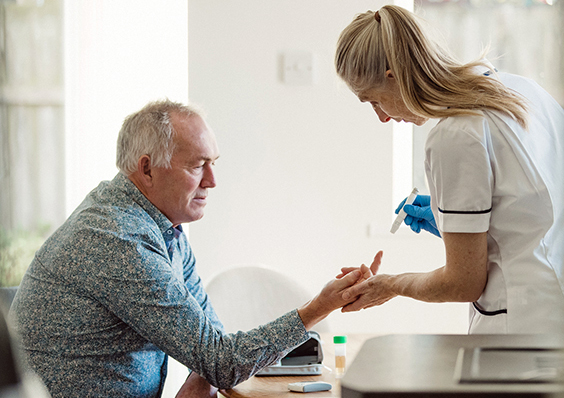 March is National Kidney Month. Unlike many chronic illnesses, people with kidney disease may have no symptoms until significant damage has already occurred. More than 30 million Americans already have kidney disease, and most don't know it and are not treating or managing their illness.
But it's something everyone should be aware of and concerned about. Chronic kidney disease (CKD) is the 9th leading cause of death in the United States and there are over 95,000 people currently waiting for kidney transplants.
What do your kidneys do for you?
Most people know that the kidneys filter blood – but did you know that they handle 200 liters of blood every day?
Here are some other tasks your kidneys accomplish to maintain your overall health:
Regulate of the body's salt, potassium and acid content.
Remove drugs from the body.
Balance body fluids.
Release the hormones that regulate blood pressure.
Produce an active form of vitamin D for bone health.
Control the production of red blood cells.
What puts your kidneys at risk?
According to the National Kidney Foundation, 1 in 3 Americans is at risk for kidney disease due to diabetes, high blood pressure, heart disease, obesity, or a family history of kidney failure. Those with CKD are at higher risk for heart disease
Seniors are at particular risk because they are often dealing with these co-occurring conditions. Medicare statistics show that about 10 percent of those ages 65 and older have CKD compared to only 1.5 percent of the younger population. Around half of people aged over 75 meet the criteria for a CKD diagnosis.
Men have a higher risk of chronic kidney disease than women, and African-Americans are much more likely to have CKD than whites.
What can you do to lower your risk of kidney disease?
If you are high risk, get tested for CKD regularly so you can begin treatment as soon as possible.
If you have diabetes, make a CKD test part of your annual care.
Maintain a healthy body weight. Obesity increases your risk of CKD and being overweight contributes to high blood pressure.
Exercise regularly to help control blood sugar levels.
Keep your blood pressure below 140/90, or ask your doctor for your best blood pressure target.
If you have diabetes, stay in your target blood sugar range.
Stay in your target cholesterol range.
Eat a healthier diet with more fruits and vegetables.
Lower your salt intake as much as possible.
CKD can be exacerbated by kidney infections, over-the-counter pain medicines like ibuprofen and naproxen, certain antibiotics, herbal supplements and imaging dyes used for X-rays and other imaging.
Seniors who have CKD or who are at risk can benefit from home health care services that monitor their blood pressure and blood sugar, keep them on a healthy, prescribed diet and make sure they are taking all of their medications according to their doctor's orders.
Belvedere Home Care offers flexible, personalized care plans that can adjust to your senior loved one's needs. Visit Belvedere Home Care: Who We Serve to learn more about our services or call us today at 518-694-9400.