Seniors and winter weather: Safety tips
From falls on slick, icy sidewalks, driving on dangerous roads and the risks of fires and carbon monoxide poisoning there are many winter safety hazards for seniors.
First, when cold weather hits, seniors are at greater risk for hypothermia, and constant cold can make them more vulnerable to illness. They may also be less sensitive to dangerous changes in temperature. A few easy steps can help you all be prepared and ready for the long season ahead.
Space heater dangers: Space heaters should never be left on overnight or unattended. Even those with timers can be a hazard if placed near flammable curtains or furniture or if a blanket falls on them. Make sure there is adequate space on all four sides of the heater and that it is not in danger of tipping over.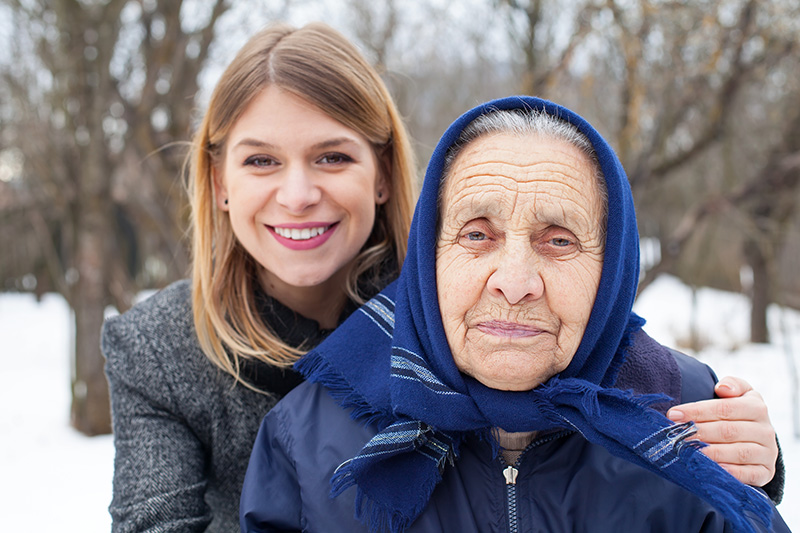 Staying warm outdoors: Wear layers and a hat or hood for better insulation against the cold. Pull on mittens instead of gloves to keep fingers warmer. Wrap a scarf around the nose and mouth to trap warm air near the face. Signs of hypothermia include pale or cold skin, is fatigued, confused, or has a slowed heart or breathing rate. If your senior loved one has these symptoms, take steps to get them warm and call 911.
Grip not slip: Seniors should wear non-skid shoes with good traction. Make sure canes and walkers are winter-ready with new non-slip grips and tips. Check your senior's stairs and sidewalks often for ice, compacted snow and other dangerous conditions. Shovel, scrape and use salt to keep sidewalks safe and unobstructed.
Prevent Carbon Monoxide poisoning: Each year up to 500 people die and thousands are sickened by carbon monoxide (CO) poisoning. CO can build up in homes that use gas heaters, fireplaces and even burning lanterns. Every bedroom and living area should have a CO detector. Many smoke detectors include CO detection as a feature. Any appliance using an open flame should be checked and cleaned regularly. Symptoms of carbon monoxide poisoning include headache, nausea, vomiting, confusion, blurry vision and general weakness and lethargy. If you suspect a loved one has CO poisoning, get them into fresh air immediately and call 911.
Drive safely: Check your senior's car tires, wipers and antifreeze along with other routine car maintenance. Create a first aid and "survival pack" for inside the car with snacks, a thermal blanket, flashlight, and chemical hand warmers. Make sure your loved one has a fully charged phone before leaving the house. And, if your senior isn't as safe a driver as they should be, it may be time to take their keys – at least until the spring thaw.
Fight the winter blues: Short days, long nights and even the holidays can leave seniors feeling depressed and lonely. Seniors suffering from seasonal affective disorder may be helped with simple light therapy.
Take a little extra time during the winter months to stop in and call senior loved ones. It's important to check on their health and safety, but also just to let them know you care, and that they have people who love them and care about them, no matter the weather.
Belvedere Home Care can help you care for your loved ones and keep them safe, healthy and happy through the winter months and all year round. Learn about our wide range of services and our trained caregivers at www.belvedere-homecare.com.