Tech that can help keep seniors safer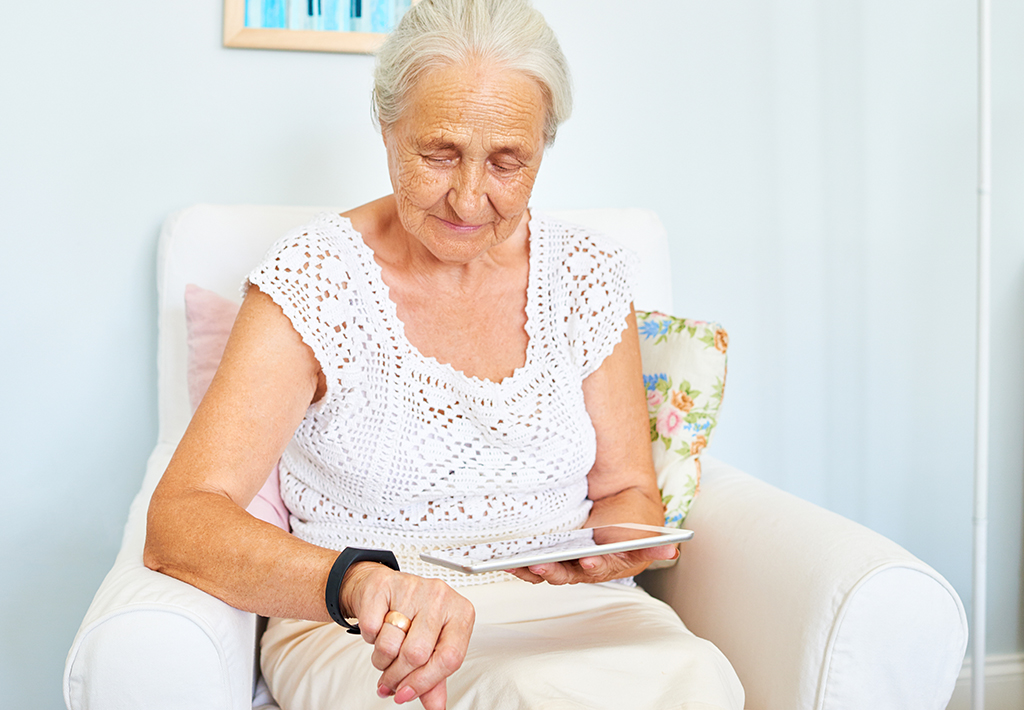 The vast majority of seniors would like to stay in their own homes as they age, as long as is possible. Many seniors may need just a little extra help to achieve that dream.
With advances in technology, from smartphones to wearables to whole-home systems, it's easier than ever for caregivers to keep tabs on elderly loved ones. It's possible for someone thousands of miles away to receive daily updates on their loved one's activities and health.
Technology offers not just safety and security; it can help seniors from feeling isolated from family and friends.
Older adults may be reluctant to have new technologies in their home, but in many cases, these safety systems can be left untouched after installation and transmit only the information that seniors want or need to send to their family or doctor.
Something many of us already have in our homes, voice-assistive technologies such as the Amazon Echo or Google Home can be a big help in making seniors feel comfortable and safe. Apps are available to help connect with family or other caregivers on vocal demand.
Many of us are also sporting a Fitbit or other wearable tech that monitors your movements, heart rate, sleep patterns and more. With a shared account, caregivers can keep tabs on their loved one's activities throughout the day, allowing them to pick up on any disruption that may indicate the senior needs assistance. There are also wearable devices that can detect a fall and automatically alert 911 or the family. This can be especially important if the senior has blacked out before or after the fall.
Personal Emergency Response System, or PERS, that can call for help from anywhere –not just the home – is another simple solution, especially if your senior is on the go, enjoys activities out of the house or likes to walk around their neighborhood. An emergency button on a keychain or from a neck cord alerts an operator who can then dispatch help and notifies caregivers.
In the home, motion sensors at strategic points can help make sure seniors are safely following their usual routine. Placing sensors at the bedroom and bathroom doors or on the refrigerator can help track motion inside the house. Sensors at exterior doors can alert caregivers when a senior is leaving the home, or someone is entering the home.
As mobility becomes difficult, it can be challenging for seniors to make it to needed healthcare appointments. Video consultations through a smartphone, tablet or computer equipped with a camera mean seniors have greater access to their doctors. Some telemedicine services offer 24/7 availability for peace of mind.
Technology can also help seniors take their medications on time, which can be particularly challenging for those juggling several prescriptions on different schedules. New products sound alerts when it's time to take medications. Those who are using pill sorters for the days of the week can now find similar products that can track and transmit when each compartment is opened to help make sure seniors remember to take medications on schedule.
Security cameras that send images to smartphones can help seniors be more secure when home alone. Placed at front and back doors, they can alert those signed into the system about any unusual activity.
Before investing in any system, it's important to ask these questions:
Is service available 24/7?
Is the equipment compatible with my smartphone, tablet or computer?
If alerts go to a third party, what kind of training do staff receive?
Who gets alerted? What's the average response time?
How many caregivers can join the system?
Can I customize settings to best suit my needs?
What are the initial costs?
Is there a monthly fee?
Home care technologies are ever evolving as the population ages, and more people feel confident in maintaining their health at home. When used in cooperation with a "real person" home health care service, these technologies can offer extra peace of mind and lower-cost monitoring alternatives for caregivers.