Organizing medications for health and safety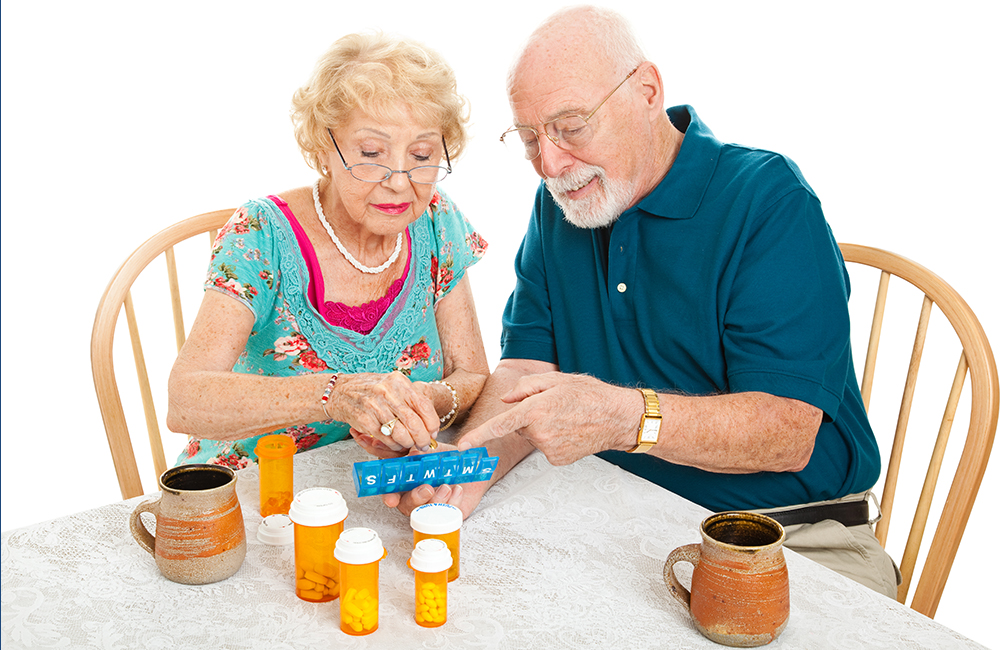 Medication dosages, schedules and restrictions can be complicated when you have just one or two prescriptions to manage. But many seniors can have a handful of meds – or even a dozen or more – to juggle daily.
Keeping seniors on track and schedule with taking their medication is not just important to maintaining their health, but also can pose a real hazard should they take too many or skip doses.
Medication challenges for seniors can include:
Medications that can't be taken together
Medications that are on staggered schedules
Medications with different special instructions – with food, with a full glass of water, stay upright for a specified time, etc.
Numerous dosages taken throughout the day
Medications that look similar and can be confused
Vision issues that make it difficult to identify medications or read bottles
Cognitive issues that make it easy to forget a dose or cause dangerous repeated doses
Here are a few simple steps that can help your senior keep better track of their medication schedules:
Use a Pill Organizer – Look for a pill organizer that will best suit your senior's needs, including large print, compartments that are easy to open and close and the right amount of sections for the various doses taken throughout the day. However, some medications can interact when stored together, so check with your doctor or pharmacist to make sure your loved ones prescribed medications can be mixed safely.
Set a Schedule – Making pills a part of the daily routine, taken at the same times in the same place, is the best way to make the right schedule a habit.
Color-coded schedule – For persons who are visually or cognitively impaired, organizing medications into colored containers coordinated with a color-coded daily schedule can make meds easier to identify and track.
Create a "medication station" – Keep all medications in one place. It may seem more convenient to keep some by the bedside, some in the kitchen or the bathroom, etc., according to where and when you need them, but having a designated spot will help make on-schedule meds a habit and routine.
Set alarms - Use a timer with multiple, programmable alarms that can only be turned off manually. If your senior uses a smartphone, computer or tablet, program reminder alarms to ring throughout the day.
Make a written chart or checklist - A written chart that shows which medications to take and when to take them is a visual record that can help make sure all meds are being taken appropriately and can identify patterns of missed doses. Print out a page with every medication and dose for every day and use a brightly colored marker (or a bingo dauber) to check off each dose as they are taken. This type of record can also be helpful when you are talking to healthcare providers. Each dose listing should include the name of the medication, a visual description, the total dosage and any special instructions. Once you've made up the chart, you can make multiple printouts or copies. Keep the charts in a binder at the "medication station."
Of course, you can talk to your pharmacist or doctor for advice on establishing routines and even products that can help your elderly loved one take their prescriptions safely.
Belvedere Home Care caregivers can help make sure your senior loved one is taking the medications they need when they need them. It's just one part of helping the people we serve stay healthy and get the help they need so they can stay in their own homes longer.
Learn more about how we can help you and your loved one by visiting Our Services.